Louisville KY is our town and we're proud to be a part of the local business community with our buy here pay here car sales team and solutions.
We have a total of 4 team members that specialize in helping Louisville KY residents with the car buying process.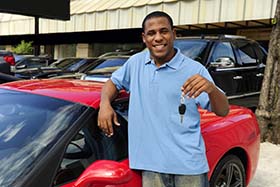 We try to have access to a good selection of cars and trucks at various locations so that we can have what are customers want and need. We know that making a car purchase can be a stressful process so we streamline it as best we can.
We've helped lots of people in Louisville KY get past challenging obstacles regarding the purchase of buy here pay here cars.
A Stream Lined Buying Process
To make things go as smoothly as possible we have a stream lined process in place for folks trying to find access to buy here pay here. After you call or submit our form for pre-approval we go to work to see if we can possibly get you approved. If you've submitted our online form we give you a call. As long as you have adequate job time and have lived in the Louisville KY area for a while showing enough income, we schedule you with a team member so you can go see some cars. It's as easy as that!
What Do You Need To Bring?
Proof of employment: These can be in the form of pay stubs, W-2's, 1099's or even bank statements showing regular deposits. In some instances a letter from your employer is what you need.
Valid Drivers License: You can't buy a car without a drivers license.
Proof of residence: A recently paid bill that you've received at your current address.
Buy Here Pay Here
Our buy here pay here team is focused on getting our Louisville KY based customers the best deal possible on a vehicle that they want and need. Our business model calls for going above and beyond the call of duty to help people that can be in tough situations. Get with us and we'll see if we can help get you into a newer set of wheels.