When people search for buy here pay here car dealers in Etown Ky the first thing they notice is that there just aren't many choices. This is why so many Elizabethtown residents contact us. When you think about it we're not really far away at all with it only being a 45 minute drive up. Plus we have 4 team members and they have a lot of cars trucks, and sport utility vehicles to choose from.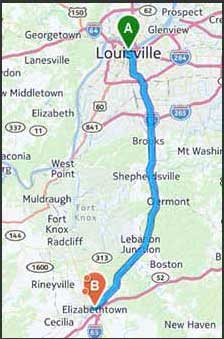 Finding great deals on buy here pay here cars is a one way trip up I65. Just get on the highway and head north out of Etown.
With multiple team members at multiple locations we're bound to have a used car or truck that you're interested in.
Call Today and Drive Tonight
That's right. We don't want our Elizabethtown customers to have to make multiple trips to and from a team members location. We've tried to make the buy here pay here process as simple as possible.
Having certain items with you can help speed the process up. Proof of income, drivers license, and proof of residence are the itmes you'll need to have with you.
What About Auto Insurance?
Yes when you finance a car with one of our team members you will need to have full coverage insurance on it before you can take it home. We advise all of our customers that if a dealer is willing to finance a car without requiring insurance then the car is only worth about as much as the down payment being made on it. If the car has value, the buy here pay here car lot that you're at will certainly want to know that it is covered in the case of a loss.
Buy Here Pay Here
We do hope that you choose to try our service for your next purchase and encourage you to visit our onsite buy here pay here page to learn more about the BHPH industry. Buying a car is something all consumers should educate themselves about. Always check the references of the dealer your buying from and visit them on the better business bureau website to check their reputation. Call us today!