Finding buy here pay here car dealers in Bardstown KY can be tough. We have a lot of customers come up and visit our different team members for that very reason. We're less than one hour north and with different team members spread around the city, there's a really high chance that you will find a quality car, truck, or SUV that will meet your needs.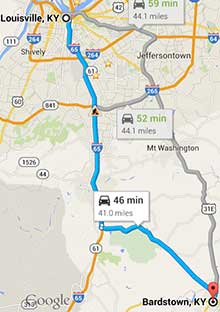 The fastest route is by heading east out of Bardstown and going over and hitting I65. Just head north and the whole drive is over in no time.
If you want to save some time on your buy here pay here shopping trip  call in advance or fill out our online Pre-Approval form. You can talk to a team member and get a idea of how likely it will be for them to be able to get you into a vehicle that you want, need, and like.
Another time saver is to bring your proof of income, residence, and driving license with you when you visit one of our team members locations.
What about First Time Buyers Programs?
Everybody has to start some where in life. A buy here pay here car purchase can help start a young person, or person with no credit history on the road to building their credit. Establishing and maintaining a good credit history will allow a buyer to move from making buy here pay here purchases to secondary financing. After enough time and good payment history the primary buyer level can be reached and interest rates and down payments become much lower.
If you need to get credit established, or re established call us today and speak to a team member. They'll be more than glad to help you get answers.
Can I Get a Car Today?
Yes as long as any Bardstown KY visitors have the necessary items and can get a full coverage insurance policy on your vehicle of choice, chances are good that you can take one home today!
Buy Here Pay Here
If you're new to buy here pay here car shopping the most important thing you can do is to educate your self on the process. We provide more info on our buy here pay here page and suggest that you visit it. Also visit consumer websites and possibly even get a credit report so that you know where you're at with your finances when researching buying a car. Budgeting a car purchase is something all consumers should do.